School Enrollment Options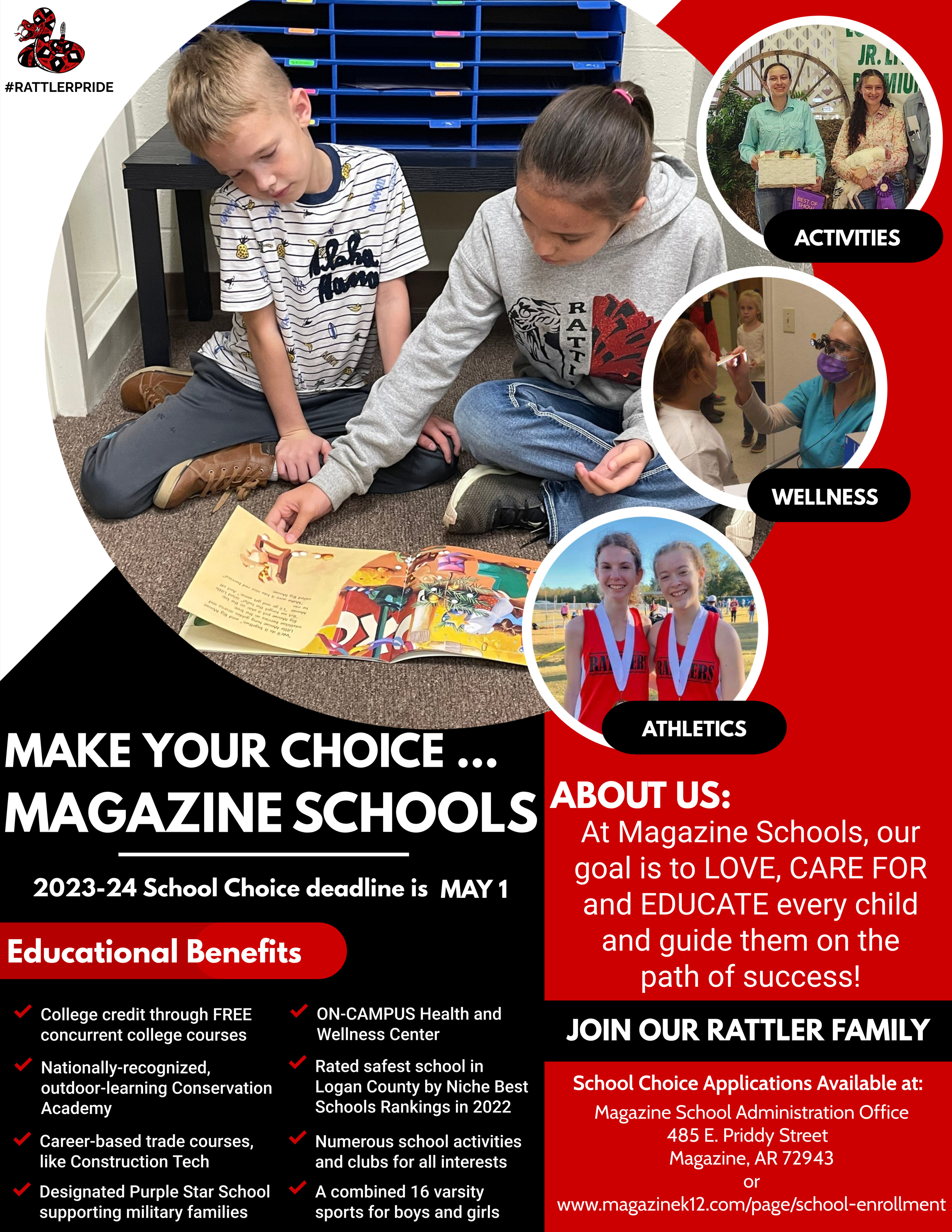 The district welcomes requests for non-resident students to transfer into the district as allowed by the Arkansas Public School Choice law and the applicable rules and guidelines of the Arkansas Department of Education.
Under the Public School Choice Act of 2015, the Arkansas Department of Education has established a public school choice program to enable a student to attend a school in a non-resident district subject to the requirements listed under the Ark. Code Ann. 6-18-1906.
In order to enroll under the Public School Choice Act:
Submit the completed form to the resident and non-resident district by May 1st of the calendar year in which the student
seeks to begin the fall semester at the non-resident district.

Applications must be received or postmarked by May 1st.

Notification of acceptance or rejection will be mailed to the parent/guardian and resident district by July 1st.
Once a student has been approved for school choice in the non-resident district, it is not necessary to reapply every year. As long as the student remains at the same residence and does not have a break in enrollment there is no need to reapply.
Parents or guardians of interested students must submit an application to the Magazine School District's administration office at 485 E. Priddy St. For more information, please call the district administration office at 866-900-2001.
School Choice Application and FAQ
Legal Transfer (Board to Board Transfer)
In special circumstances, it may become necessary for a family to apply for a board transfer to attend Magazine Schools. Particularly, if the school choice deadline has passed and is not an option. If a family wants to appeal to their home district for a release and transfer they must fill out the appropriate form and submit it to their home district for board action. Once the home district has approved the release, the non-resident district Board of Education will consider the request during the regularly scheduled board meeting.
For questions regarding board transfers, please contact paula.russell@magazinek12.com for more information.
The Magazine School District shall review and accept or reject requests for transfers, both into and out of the district, on a case-by-case basis at the regularly scheduled board meetings.