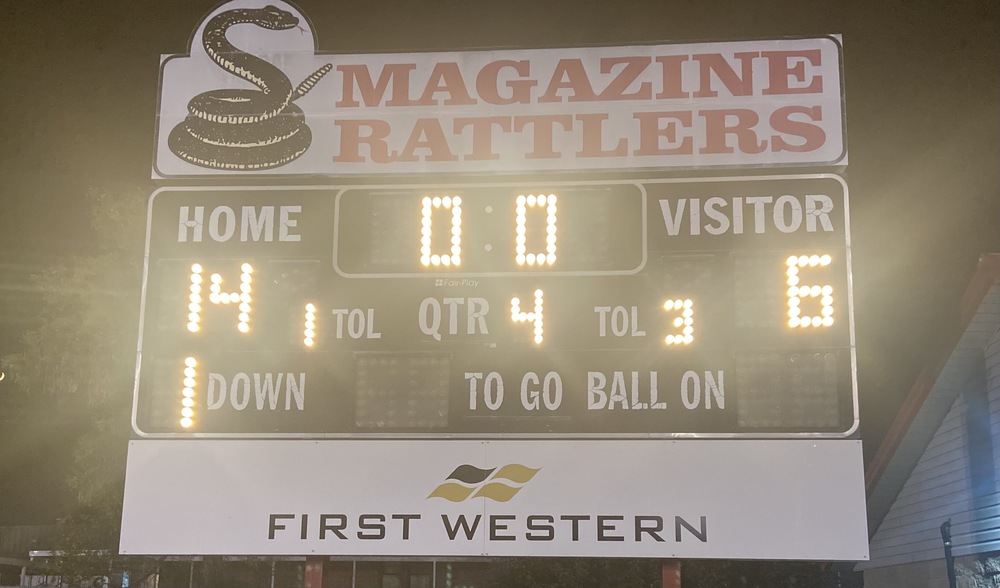 Balanced Rushing Attack and Tough Defense for the Rattler Win!
Karen Gipson
Saturday, September 11, 2021
By Jonathan W. Gipson
Magazine Schools
MAGAZINE – With Magazine's 2A-4 Conference opener against Bigelow looming in two weeks, coach Ryan Chambers was hoping to see marked improvement from his Rattlers during Friday night's non-conference game against Class 4A Waldron's junior varsity team.
The Rattlers gave the second-year head coach plenty of reasons to be happy.
Magazine's balanced rushing attack accounted for a pair of touchdowns and its defense held Waldron without an offensive touchdown as the Rattlers posted a 14-6 win at Shorty Wright Field at Diamondback Stadium.
The Rattlers (1-1), who were coming off a 41-7 nonconference loss to the Class 3A Mansfield Tigers in the season opener for both teams on Aug. 27 at Tiger Stadium, will make their conference debut on Friday, Sept 24, when they host defending conference champion Bigelow.
Chambers and his staff were forced to adjust their game-planning early in the week when Magazine's game against Lamar's junior varsity team was canceled. Originally, Magazine wasn't scheduled to play Waldron's junior varsity until Monday, Sept. 13, but since Magazine suddenly had an opening, the game against the Bulldogs, who are coached by former Rattlers coach Doug Powell, was moved up to Friday night.
"This is exactly what we needed going into our first conference game in two weeks. We are just so inexperienced right now," Chambers said. "We had two foreign exchange students in the lineup tonight, and I think that's what they needed. They both played pretty well. I think it's just going to give us more depth as the season wears on."
Multi-dimensional senior running back Ashton Droemer had his second 100-plus-yard rushing performance in as many opportunities, running 17 times for 142 yards and one touchdown. He was one of seven Rattlers to have at least one carry. Droemer, who primarily plays running back, also played quarterback in different offensive sets, giving the Rattlers a different look.
"He can do a lot of things," Chambers said.
After holding Waldron to just a minus-5 yards on three plays on its opening drive, Magazine wasted little time taking the lead on its opening drive. Sophomore running back Ethan Vasquez capped a quick, two-play drive with a 15-yard touchdown run.
Kicker Carlos Marcos' extra-point split the middle of the uprights to give the Rattlers a 7-0 lead with 6:12 left in the first quarter.
Magazine's defense responded again, holding Waldron to just a total of 10 yards on its next drive, a four-play series that included a 5-yard false-start penalty against the Bulldogs. The Rattlers then marched 61 yards into the red zone on their second offensive series, but on third-and-goal from the Bulldog 9, Rattlers quarterback Hayden Littleton was intercepted by Bulldogs defensive back Bryson Barker at the Bulldog 5.
Barker returned the interception 95 yards for a touchdown with 7:36 left in the first half. The 2-point conversion run failed. It was the only touchdown scored by the Bulldogs, who, offensively, never drove closer than the Rattlers 15-yard line the entire game.
"The defense playing fast is something that we've been working on since the Mansfield game," Chambers said. "That's something we didn't do. We kinda played side to side. Tonight, our secondary did a much better job of coming downhill and making some plays on the edge."
Magazine took the opening second-half kickoff and marched 70 yards in 12 plays. Droemer, who logged nine carries on the drive, scored on a 2-yard run with 1:25 left in the third quarter. Marcos again split the uprights on the extra-point attempt to push Magazine's lead to 14-6.