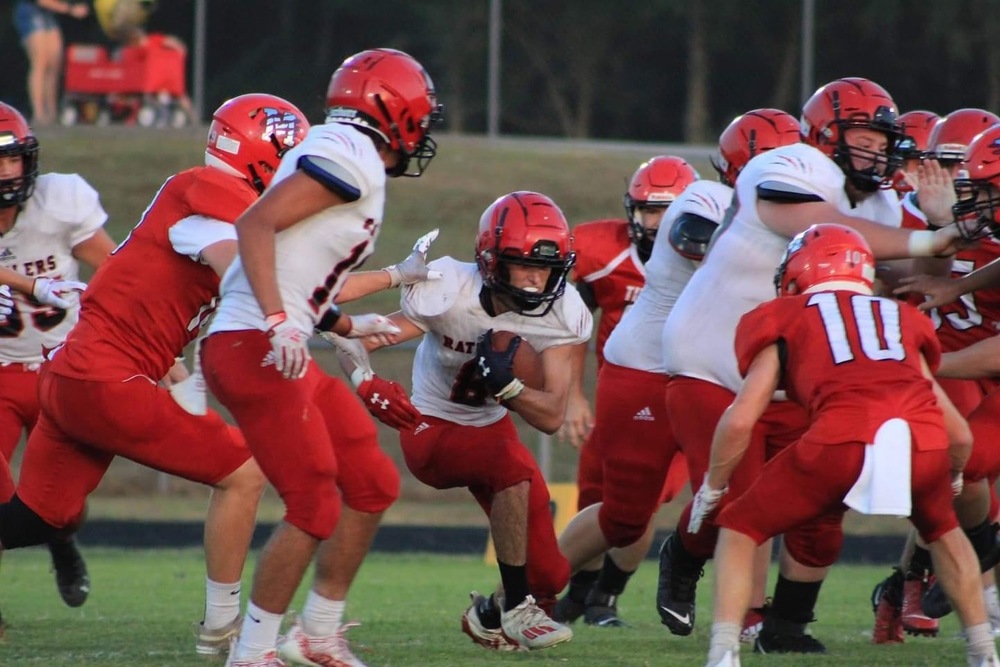 Droemer Leads Rattlers With 70 Yard Run
Karen Gipson
Saturday, August 28, 2021
By Jonathan W. Gipson
MANSFIELD – Magazine football coach Ryan Chambers at times could see glimpses of how good his Rattlers could be this season during Friday night's season opener against the Mansfield Tigers, but he knows there's still some work ahead of them.
Senior running back Ashton Droemer ran 12 times for 119 yards and one touchdown and caught one pass for 9 yards on Friday night during the Rattlers hard-fought 41-7 nonconference loss to the Tigers at Tiger Stadium.
Class 3A Mansfield (1-0) swept the home-and-home, non-conference series against Class 2A Magazine (0-1), winning 41-0 last year in the season opener at Shorty Wright Field at Diamondback Stadium.
A year ago, though, the Rattlers quickly bounced back from that season-opening loss to win seven of their final eight regular-season games, finishing second in the 2A-4 Conference and advancing to the second round of the state playoffs.
With a week off – the Rattlers have a bye week next week – Chambers expects his Rattlers to make big strides offensively and defensively, much like the Rattlers did following the loss to Mansfield a year ago.
"We've got to watch film and figure out what we can do to get better," Chambers said. "Right now, we are blocking okay at times but not as good at times."
Mansfield scored on its first three possessions to take an early 20-0 lead after the first quarter. Fullback Fisher Willsey scored on runs of 2, 13, and 14 yards, respectively, out of the Tigers' Wildcat Formation.
Running back Tyler Woolbright capped the Tigers' fifth drive with a 5-yard run to push Mansfield's lead to 27-0.
Droemer, who had five carries for 23 yards during the Rattlers' first four series, sparked the Rattlers' lone first-half scoring drive, with three carries for 86 yards on their fifth series, including a 70-yard run that he bounced outside and out-ran the Tigers' secondary down the home sideline. The extra-point kick was good, pulling the Rattlers within 27-7 with 1:39 left before halftime.
"He played behind Kobe Faughn, who ran for 1,100 yards last year. We know he can play. He ran for more than 100 yards tonight. He's a gamer," said Chambers of Droemer. "We had some other guys that had some bright spots, too. Cameron Mattson had a couple of decent runs, and Ethan Vasquez is going to get better. (Quarterback) Hayden Littleton made a couple of nice throws."
Mansfield, though, countered with its fifth scoring drive, marching 71 yards in five plays, which included pass completions of 35 and 19 yards by Tigers quarterback Zayne Dugan. Willsey capped the series with his fourth touchdown run – a 17-yard jaunt – with 49 seconds left in the first half to help give the Tigers a 34-7 lead.
The Tigers added their final touchdown late in the third quarter. Running back Caleb Collier scored on a 1-yard run with 2:46 left in the quarter to pad the Tigers' final margin.
Magazine will return to regular-season play on Friday, Sept. 10, when it hosts the Lamar Warriors junior varsity team at 7 p.m. at Shorty Wright Field at Diamondback Stadium. It will be the second game of a two-game night with the Junior Rattlers playing the Junior Warriors at 5:30 p.m.