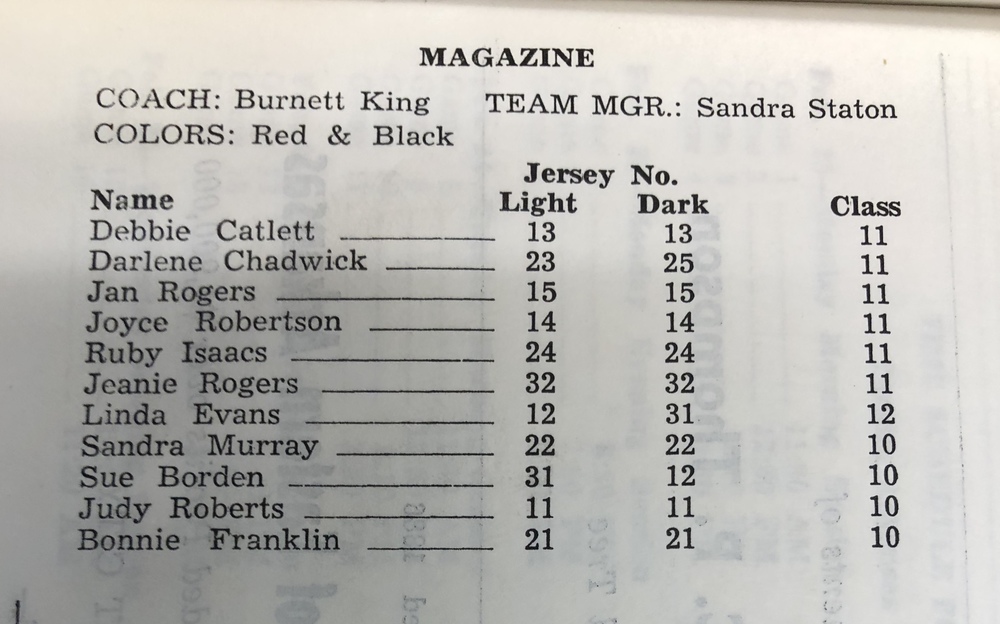 Great Sports Moments at MHS
Randy Bryan
Wednesday, May 13, 2020
With no kids on campus, no organized sports and activities going on for our students, and no summer Homecoming, I decided to go back in time. The idea was generated by a gift I received from Sandra Beck today, namely memorabilia. So, here goes:
1939-1940 school year (80 years ago), Emmit Cleveland finished up three consecutive state titles in pole vault setting a state record which stood for some 17 years.
1949-1950 school year (70 years ago) Allene Khilling, Dixie Hopkins, and Grace Ryan lead the Lady Rattlers. Some of the names are still engraved on old trophies from the era.
1959-1960 school year (60 years ago), Ruth Ann Loyd graduates as the school's all-time leading scorer in basketball. She also set single game records scoring 56 in one game.
1969-1970 school year (50 years ago), our Senior Girls make the state tournament. (pictured above is the roster for that team in the state tournament program.)
1994-1995 school year (25 years ago), our football program prepares for playing senior high independently before entering conference play the following year.
2009-2010 school year (10 years ago), Michael Corbitt (Logan County Athlete of the Year) leads the Rattler Football team to the state semifinals in football. The Rattlers are State Runner-up in Track and Field.
2019-2020 school year, Caleb Hyatt, Xeng Yang and a host of Rattlers led Rattler football team to state playoffs for third consecutive year including an undefeated conference season. They also led Track and Field team to Indoor Track and Field State Runner-up ending their careers with a State Championship, State Runner-up, and State 3rd place..Kylie Robinson set school record (modern-day 5-on-5) for points in a game (43) and 3-pointers made in a game. Michal-Ann Dobson and Lauren Littleton go 1-2 at Golf District Championships.

Just some Rattler sports history to hopefully stir up some fond memories.