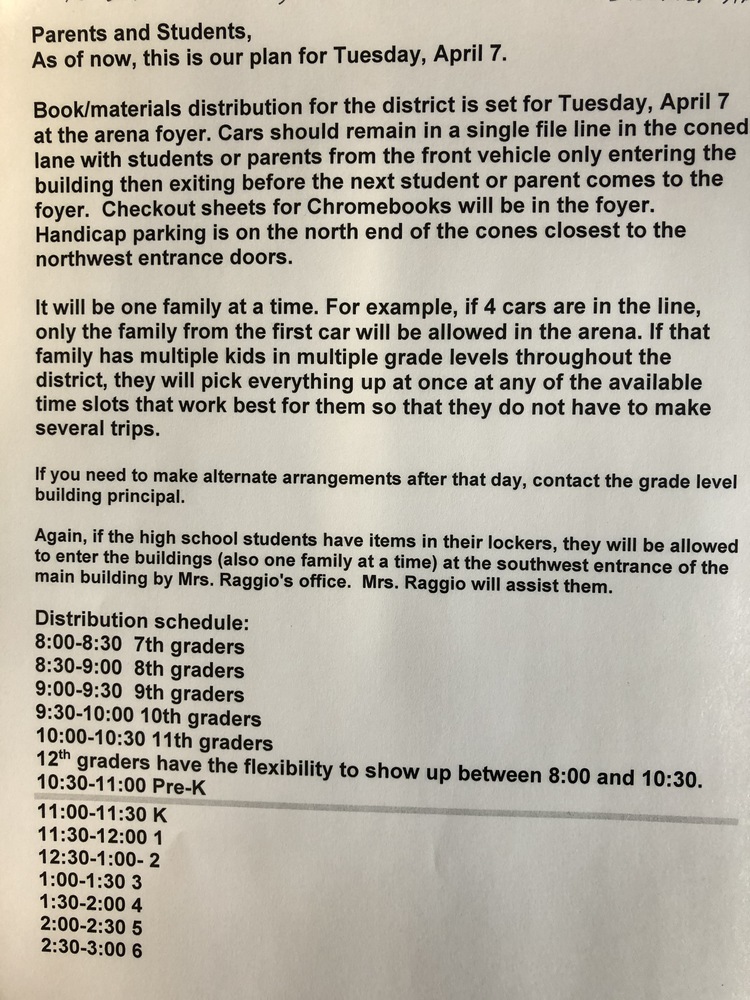 Distribution
Randy Bryan
Friday, April 03, 2020
Parents and Students,
As of now, this is our plan for Tuesday, April 7.
Book/materials distribution for the district is set for Tuesday, April 7 at the arena foyer. Cars should remain in a single file line in the coned lane with students or parents from the front vehicle only entering the building then exiting before the next student or parent comes to the foyer. Checkout sheets for Chromebooks will be in the foyer. Handicap parking is on the north end of the cones closest to the northwest entrance doors.
It will be one family at a time. For example, if 4 cars are in the line, only the family from the first car will be allowed in the arena. If that family has multiple kids in multiple grade levels throughout the district, they will pick everything up at once at any of the available time slots that work best for them so that they do not have to make several trips.
If you need to make alternate arrangements after that day, contact the grade level building principal.
Again, if the high school students have items in their lockers, they will be allowed to enter the buildings (also one family at a time) at the southwest entrance of the main building by Mrs. Raggio's office. Mrs. Raggio will assist them.
Distribution schedule:
8:00-8:30 7th graders
8:30-9:00 8th graders
9:00-9:30 9th graders
9:30-10:00 10th graders
10:00-10:30 11th graders
12th graders have the flexibility to show up between 8:00 and 10:30.
10:30-11:00 Pre-K
11:00-11:30 K
11:30-12:00 1
12:30-1:00- 2
1:00-1:30 3
1:30-2:00 4
2:00-2:30 5
2:30-3:00 6